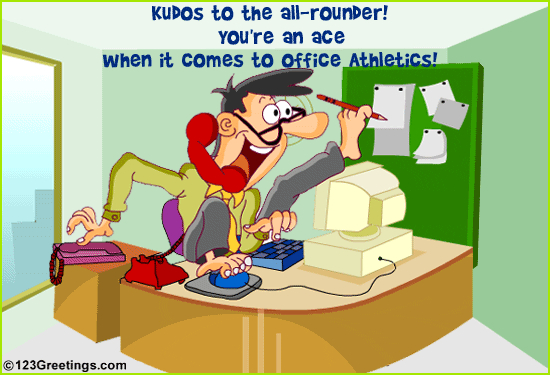 Its a fact in the modern world that people who have many skills, are considered as true valuables and is an asset for any group, team or organization. These kind of people are considered as all rounders and have the unique talent of performing many roles to help the people depend on him achieve their goals. But at present, this role has lost its value and it been misused regularly .
The current crop of all rounders may have the skill of performing many roles; but, there are not performing any role to the expected result or not given the chance to perform a particular task correctly since there are asked to perform multiple roles simulatenously.
For example , let me take the Sri Lankan Cricket Team. Our team has a set of awesome all rounders in Angelo Matthews. Tissara Perera , Farveez Maharoof etc. But , apart from Matthews no one else has performed to the expected level. The recently concluded shocker of a test match testifies for this statement where Tissara and Maharoof's contribution were no where to be seen which was a big reason why we loss that test match. What if the selectors selected a genuine bowler (ex: Welagedara) and a genuine batsman (ex: Thirimanne or Chandimal who is also a keeper but can play has a sole batsman) ? we could have taken more wickets and could have got more runs. Perera and Maharoof together just took 2 wickets and got some 20 odd runs. It's good for a one day match. not for a test match.
Also, I have seen things like this happen in the industry I am involved in where project documentation , testing ,implementation and support is carried out by one person. It is an inefficient method of managing projects and is very risky since each task that is mentioned has its own process and should be done by experts in that area so the accuracy of that task can be achieved as well as the opportunity to complete that task on time. By allowing one person to do it . It will create major issues to the project , to the person as well as the whole organization.
So, what can you do to be the best and avoid problems that is mentioned above? The best approach is to
build some core competencies and market yourself to the world through them
. Be a "
Professional
", expert in an area that you are comfortable with and work on that to build your career and goals. "
Nobody can Do Everything.. and its Not Practical.
" Others might ask you to do certain things out of your league as a favor or as help. But, you should have the guts to tell them that you don't know those things. They might think bad of you.. but you always got the chance to win their confidence back by showing off your core competencies.
Focus on what you like and what you want to do and improve those skills and skills related to it so you can show the world what you are worth. Good all rounders are very scarce these days and even they also find as time moves on they can't do everything and focus on their main skills by giving 2nd preference to the others. ( ex: Jacques Kallis , the best all rounder in South African Cricket Team who now bats a lot but bowls very rarely.)
So, don't be an All Rounder. be an Expert. It might be a risk , but any person who is specialized in a certain area will always get a chance to go higher up the ladder of success rather than a person who has many skills but doesn't have any expert , correct knowledge of any of those skills .
Would like to hear your thoughts about this. Do share them through the comments section and I assure you I will reply to them without any delays =).
Cheers !!
add to del.icio.us
saved by
0
users